Banco Sabadell reports slide in 2012 profits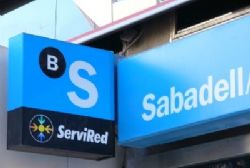 Sabadell said on Thursday it could still make acquisitions amid a restructuring of the Spanish banking sector, even as the lender posted a 65% fall in 2012 net profit.
The Barcelona-based bank said profits dropped to €82 million after a rise in bad loans and big writedowns on its soured property investments, though it beat analyst forecasts.
"Sabadell has the necessary capacity to undertake additional corporate operations in the context of the banking restructuring if economic conditions are favourable and risks are sufficiently covered," Chairman Josep Oliu said in a statement.
Sabadell bought stricken savings bank CAM in 2011 for one euro, and it is closing in on the purchase of assets in the northern region of Catalonia and Aragon from Banco Mare Nostrum.