Ryanair Luggage Policy : "Saftey not Revenue"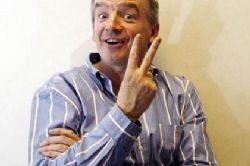 Ryanair has tried to defend the aggressive application of their carry-on baggage policy, by claiming that it is enforced for reasons of safety.
The Ryanair website also rejected complaints raised by a number of Members of the European Parliament last week, by claiming how they had been "poorly briefed".
The low-cost carrier claims that because they operate with an average load factor of 83% - higher than many other airlines - and encourage passengers to travel with carry-on luggage of less than 10kg included in the ticket price, the majority of passengers take advantage of this option. This results in all available storage space being taken up, with no room for passengers to carry a further second bag.
Ryanair added that 75% of their 80 Million passengers per year travelled with just one piece of cabin-baggage.
This statement appears to be totally opposed to a statement released earlier this year by the Spanish Airports Authority - AENA - which claimed that the enforcing of such a policy infringed article 97 of the Air Navigation Law.
Click >> HERE << for details.
Head of Communications, Stephen McNamara, commented "Ryanair's 1 bag rule is a safety rule, not a revenue rule."
Based on the above information from both Ryanair and AENA it seems that it is simply a matter of income : AENA see the enforcement of the policy as restricting their Duty Free revenues, whilst Ryanair see this as an opportunity to charge extra for infractions.