Spain to extend new car purchase subsidy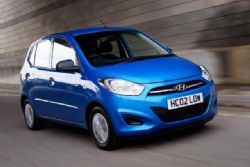 Spanish PM Mariano Rajoy announced today how his government will extend the 'Plan PIVE' to help the automobile sector.
The Plan PIVE, which came into effect in October 2012, will have a fund of €150 million and will help to stimulate the demand and economic growth, said Rajoy.
Those people who have a car of 10 years or older can benefit from the Plan PIVE that will give them finiancial aid of €2,000 in purchasing a new and more ecological car.
Currently 45% of the cars on Spain's roads are indeed 10 years old or even older as a result of the economic crisis which has seen Spaniards delay the purchase of new vehicles.
In 2012 the Spanish automobile sector saw sales of new cars fall by 13.4% and the total of 700,000 vehicles sold over the year.
Rajoy, who is in Santiago de Chile, also announced the creation of a new plan called 'Prima Aire', which aims to renew the commercial automobile fleet of the country and has an investment of €40 million.
The extension of the 'Plan PIVE' is good news for producers who agree that without the plan, which contributed to 1,500 bookings per day, the results for 2012 would have been even worse.