Castellon Airport rented out for €1000 per day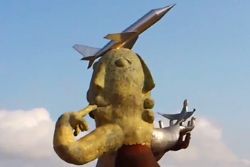 The President of the Generalitat Valenciana, Alberto Fabra, has responded to reports that Castellon Airport has been used as a practice facility facility for a car racing team.
Fabra agreed that the news harmed the credibility of the project, but conceded that whilst other airports regularly allowed motor racing teams to practice, it made no sense to allow them to do so at Castellon.
The airport - still without the arrival of any aircraft almost 2 years after officially opening - is currently owned by Aerocas, in which the Generalitat have 99% of the shares. Two weeks ago Aerocas announced that they were considering the offer to buy the facility by a Libyan Investment Group for the sum of 200 Million Euros.
The President of Aerocas, Carlos Fabra, allegedly charged 1000 Euros per day for use of the airport, prompting the PSPV opposition to call for his resignation.
Read further Castellon Airport news by clicking the link >> HERE <<.