Spain under pressure to end plans to scrap travel discount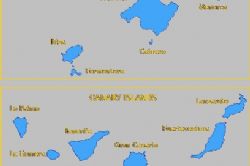 Residents of the Spanish Islands are applying increasing pressure on the government of Spain to withdraw their plans to put an end to the 50% travel discount they are currently entitled to.
Residents of the Balearics, Canary Islands and the enclave of Melia and Ceuta in North Africa are currently able to take advantage of these discounts, enabling to travel back and forth to the mainland for as little as €10.
Plans to end the subsidised flights were announced last year, but have been opposed by both consumer groups and the airlines themselves, prompting fears that this will have a knock-on effect for those who regularly travel to the Islands for business purposes.
As an alternative the government was considering the application of a fixed rate of discount on flights from major airports in the Balearics and Canaries to Madrid-Barajas or Barcelona-El Prat airports.
The travel discount is currently available to all Spanish residents of the Balearics and Canary Islands who are holders of a passsport issued by an EU member state.