Court finds Catalan party guilty of fraud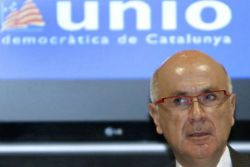 The Unió Democrática de Cataluña (UDC) - one of the political partners in the ruling Catalonia CiU bloc - was found guilty on Friday for diverting money from a fund set up to train the unemployed in the region.
The Barcelona regional high court ordered the UDC to pay back €388,483 as part of a civil forfeiture after convictions were handed down against four defendants, including the former party secretary Vicenç Gavadà, who a judge said was "the direct receiver of important quantities of cash."
Gavadà, who served from 1992-99, and his codefendants were found guilty of fraud-related charges, which carry terms of eight to 18 months in prison.
Prosecutors and UDC lawyers had reached a plea deal to keep current party leader Josep Antoni Duran i Lleida from testifying in the case. From Chile, where he is attending a summit, Duran asked for "forgiveness" but insisted that he won't step down.