Royal Family of Spain distances itself from Son-in-Law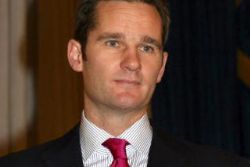 Spain's Royal Family yesterday removed the Duke of Palma, Inaki Urdangarin from the area of their official website giving a brief biography of their members.
This step has been taken due to the ongoing corruption case which is being conducted against the husband of the Infanta Cristiana, the youngest daughter of King Juan Carlos and Queen Sofia of Spain.
The measure has been taken as the Royal Family continues in their attempts to distance themselves from him.
The Royal Son-in-Law stands accused of having diverted public finds for personal profits through his "Noos Institute."
Urdangarin was excluded from official royal family duties over 1 year ago for "non-exemplary behaviour," following details of the scandal being reported by the press in November 2011, with the King making reference to the incident in his Christmas speech later that year by declaring "Justice for everyone".
The Duke of Palma is due to appear in court on February 23rd to testify in front of a judge regarding his involvement in the "Noos Case."