Andalucia earthquake swarm enters 6th week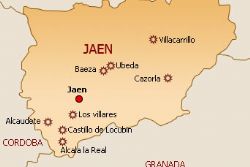 With the on going earthquake swarm in Northern Jaen, Andalucia, entering its 6th week the number of seismic activities seen to date is approaching 1'000 earthquakes.
Almost all of the activities so far have been centered in the rural mountain villages of Sabiote and Torreperogil, to the North of the town of Ubeda.
Few of the earthquakes have been strong enough to be felt on the surface, with the average intensities measuring between 2.0 and 2.5 on the Richter scale, and average recorded depths being between 5.0 and 10.0 kms.
The South-eastern area of Spain is no stranger to seismic activity, being located close to a meeting of the EurAsian and African Tectonic plates. An Earthquake on Christmas day of 1884 also caused the deaths of an estimated 900 residents and destroyed 12'000 properties. More recently, 2 earthquakes measuring 4.5 and 5.2 on the Richter scale took 9 lives when they struck the town of Lorca, Murcia in May 2011.
Read earlier news stories on the Jaen earthquake swarm by clicking the link >> HERE <<.