Stranded Spaniard Mirrors Film Storyline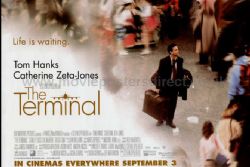 A Spanish Citizen has been stranded at an airport in Santiago, Chile, for the last 8 weeks, mirroring the story behind the Tom Hanks movie "The Terminal".
Rodrigo Ben-Azul told members of the local press PubliMetro, that he flew from Spain to Chile in November to settle a family dispute. He failed to do this and has since been waiting for relatives in Spain to send money so he can purchase a return flight back home.
Airport workers told journalists how the stricken traveller passes his evenings sleeping in quiet corners of the terminal buildings, whilst his days are spent returning abandoned luggage trolleys for their deposit money so he can afford to buy food, or failing that, scavenging for scraps of unwanted food in the food court rubbish bins.