Castellon Airport to sell for €67.5 Million LOSS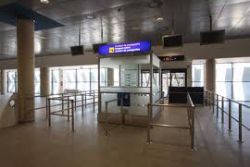 The actual "effective" value of the offer to purchase Castellón airport has been calculated at €87.5 million, according to the Provincial Deputy for the Bloc party.
Enric Nomdedéu demanded that the Generalitat Valenciana explained how this corresponded to the €200 million sale price announced by Carlos Fabra, President of Aerocas, earlier this month.
The President of the Diputación de Castelló, Javier Moliner, explained that the final amount arrive at €87.5 million once cost corrections for the runway and "logistics" have been factored into the final sum.
Nomdedeu, ever the mathematical genius, concluded that if the airport has cost €155 million to date, and is sold at €87.5, it would represent a net loss of €67.5 million to the region.
And given that Aeorocas - the concessionaire of the Airport - is in turn 98% owned by the Generalitat Valenciana, it amounts to a huge (and Criminal ?) loss of taxpayers' money.
Nomdedu also asked Moliner to explain the Diputacion's opinion on Carlos Fabra's renting out the facility to a Formula 3 Car racing team, together with the promise that the sale of the airport would result in the creation of 1'400 jobs. Moliner simply replied that he di not have any further information.
Read further Castellon Airport news by clicking the link >> HERE <<.