Banco Popular repays ECB cash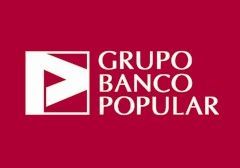 Banco Popular said it would return €1.3 billion of long-term loans from the ECB on Wednesday, joining other Spanish banks repaying cash borrowed when the euro zone crisis was at its height.
A real estate bubble that burst 5 years ago has crippled Spain's lenders, and a prolonged recession in Spain and fears it might need a sovereign bailout heightened problems in 2012, though funding strains across Europe have since eased.
Banco Popular, Spain's 6th-largest bank, is returning about 7.5% of the total €17.2 billion it borrowed from the ECB, a spokesman said. The ECB set up so-called longer-term refinancing operations or LTROs in December 2011 and February 2012, and banks across Europe are on Wednesday set to return €137 billion of the €489 billion they took.
Other Spanish banks including Sabadell and BBVA are also planning to return part of the loans this week.
Spain's biggest bank, Santander, declined to comment, though it is widely seen as one of the healthier banks likely also to be returning some of the cash.
Santander, which borrowed about €35 billion in LTROs, reports Q4 results on Thursday.
El Pais reported that the country's lenders would return a total of about €44 billion on Wednesday, citing European sources and sources close to the ECB.
The Bank of Spain and Spain's Economy Ministry declined to confirm the figures. The country's banks borrowed about €260 billion of ECB crisis funds.
Three of Spain's bailed-out banks, meanwhile, are unlikely to rush to repay the loans, sources told Reuters.
Funding conditions have improved for banks across Europe since last year, and many Spanish banks took advantage of that to issue bonds in January, putting them in a position to start repaying the loans, bank sources have said.
But returning the cash could also have negative implications, analysts at Rabobank said, if banks raised the funds to repay the cash by shrinking their loan books or selling government bonds.
Rabobank said that would be "negative for Spanish government yields although to date we have seen no evidence of such a significant sale occurring".
There were many possible interpretations of what the repayments said about the health of Spanish banks, Rabobank said. So far, however, there are few signs that European banks are replacing the 3-year LTRO loans with alternative shorter-term funding from the ECB.