Catalonia complains to EU over unfair treatment from Spain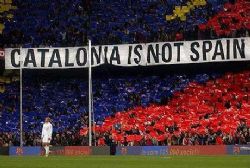 Debt-laden Catalonia has complained to Brussels that it is being unfairly treated by Spain's central government in the country's drive to cut its public deficit and avoid fiscal meltdown.
In a January 25 letter to European Economic and Monetary Affairs Commissioner Olli Rehn and seen by Reuters, Catalonia's economy chief Andreu Mas-Colell, says Madrid has not followed European guidance to share out cost-cutting efforts in line with cost burdens.
"Unfortunately these are not the principles that the Spanish government has followed in setting regional targets, thus contributing to unnecessary acrimony and contentiousness," the letter says.
The Commission is not likely to take any action on the letter because it leaves intra-country distribution of revenues and expenditures to national governments.
But politically, the direct appeal to Brussels is bound to irritate Madrid at a time when a surging separatist movement in the northeast region of Catalonia has already strained relations with Spain's central government.
Catalan President Artur Mas has vowed to hold a referendum on secession from Spain by 2014, saying Catalonia should be a separate state within the EU and the euro monetary union. Spanish PM Mariano Rajoy says such a vote would be unconstitutional.
In the past week Mas and Rajoy's foreign minister have sparred publicly over Madrid's plan to curtail Catalonia's diplomatic representation in other countries.
A spokeswoman at the Ministry of the Economy said the ministry had no comment on the letter. Rehn spokesman Simon O'Connor also said he could not comment.
Catalonia argues its deficit goal of 1.5% of economic output is too tough at a time that it has had to ask Madrid for rescue funds - €5.4 billion last year and €9.1 billion this year - to meet debt payments and pay workers.
A recent European Commission report forecast that Spain will probably miss its deficit target of 6.3% of GDP in 2012, partly due to a deficit in the social security system, and even when stripping out a one-time payment from the government to problem banks.
Rehn has said that Spain could get an extension on the 2014 deadline for cutting its deficit to below 3% of GDP, because of a deep recession that has pushed unemployment to 26%, the highest in the euro zone.
CATALONIA STRUGGLES TO HIT TARGETS
Catalonia, which accounts for 20% of the Spanish economy, has cut public spending by almost 16% over 2 years.
"This is significant because we are in charge of healthcare, education at all levels, welfare support, police and justice," Mas-Colell wrote in the letter to Rehn.
He referred to a resolution passed by the European Parliament in January that said fiscal consolidation efforts should be shared out among administrations taking account of the services they provide.
Catalonia missed its deficit target in 2011 and may have done so again in 2012.
Catalonia, like many of Spain's 17 highly devolved regions, it is unable to raise debt on public markets due to a high risk premium, which is why it has had to get funding from Madrid's rescue fund.
In the letter Mas-Colell said Catalonia supports the expressions of interest from Brussels in possibly giving Spain more time to cut its deficit, but said that Spain must share out the benefits of an extension with the regions.
He said that when Spain got a break on its 2013 deficit target, which has been set at 4.5%, relaxed from an original goal of 3.0%, it passed only a small bit of the benefit to the regional governments, two-tenths of a percent.