ECJ Ruling against Ryanair will see price increase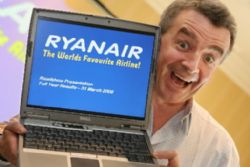 Michael O'Leary has called a decision by the EU courts to make airlines pay compensation to stranded passengers "stupid", saying how it would result in ticket prices going up.
The Ryanair CEO made his comments during a press conference at East Midlands Airport to promote new flights from the airport - one of which will be to Girona, Catalonia. O'Leary went on to give his reaction the the ECJ ruling which said that airlines are obliged to cover the costs of stranded customers' food, accommodation, transport and communication, even in "extraordinary circumstances'' such as the 2010 volcano eruption in Iceland.
O' Leary said the ruling would open the floodgates for passengers to seek compensation and the cost would be inevitably be passed onto passengers.
"It's a stupid decision - it will mean air fares go up while we deal with crazy compensation claims – but I suppose that is the joy of being in the EU.
"Where the airlines are not responsible you can make us responsible – it's like suing Toyota because your car is stuck on the M25.
"These events happen with depressing regularity and what if a volcanic eruption goes onto for 3 months ?
"The airlines would go bust dealing with all the claims."