BBVA 2012 Profits down 44%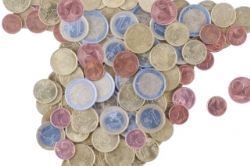 Spanish lender BBVA said on Friday that its net profit fell 44% in 2012 after it booked big provisions at the end of the year against soured property assets in its home market.
Spain's 2nd-biggest bank posted a €1.67 billion profit for last year, in line with analyst forecasts in a Reuters poll.
BBVA, which makes the bulk of its gross income outside Spain, said its bad loan ratio was 5.1% at the end of December, up from 4.8% at end-September.
It posted net interest income of €15.12 billion, also in line with expectations.
This follows news released earlier this week from BBVA's larger rival, Banco Santander, that they too missed their profits target at the end of 2012. Spain's No.1 lender came in with profits of €401 Million instead of the €801 Million predicted by a panel of Banking Industry analysts.