Caixabank says profits fell 78 pct in 2012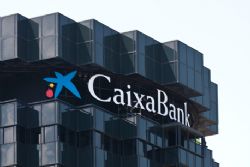 Spain's Caixabank, the banking business of financial services group La Caixa, on Friday posted a net profit of €230 million for 2012, down 78.2% and below forecasts from analysts polled by Reuters.
The Barcelona-based bank, hit like many of its peers by big provisions on troubled real estate assets in Spain, said net interest income last year was €3.87 billion, in line with analyst forecasts of €3.85 billion.
Caixabank said its bad loan ratio stood at 8.62% at the end of December.
The bank said that it had returned €4.5 billion in so-called longer-term refinancing operations or LTROs taken from the ECB. It added that it had helped Banco de Valencia, which it bought last year, with €4.5 billion in financing to that it could reduce its ECB funding by the same amount, though that was not an LTRO repayment.
Spain's Banco Santander and BBVA earlier this week also posted lower than expected profits for 2012, with profits being 60% and 44% down on predictions respectively.