Spanish Mayors implicated in Russian money laundering scam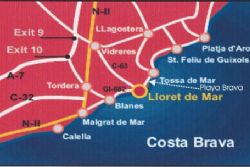 The Catalan police force have arrested a number of Senior Spanish officials and suspected members of a Russian criminal group as part of Operation Clotilde, according to the Russian press.
Those detained are thought to have laundered €56 million over the past 2 years through various businesses in Catalonia, including a network of firms that is linked to one of the FBI's 10 most wanted fugitives.
The main suspects are Josep Valls, Deputy Mayor of Lloret de Mar, near Barcelona, and a Russian immigrant, Andrei Petrov.
Other suspects include the former Mayor of the town, Xavier Crespo, President of the town's hockey club Joan Perarnau, Architect Pilar Gimeno and a number of Petrov's relatives.
The investigators' suspicions first arose by the rate in which Petrov spent his illigict gains around Lloret de Mar, when in 2001 he was only a part-time Taxi driver. But within 3 years he had established a property development company, Development Diagnostic Company SL. Petrov quickly found influential patrons in the city's government, including Josep Valls.
The Police suspect that Valls helped Petrov's company to receive management rights for 35% of the town's new shopping centre. Petrov allegedly conducted a number of other transactions involving local restaurants, filling stations, parking areas and sport clubs to launder money.