Former Operator of Castellon Airport files for Bankruptcy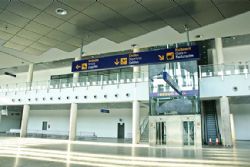 Airport Concessions SA, the company employed by Aerocas for the construction and Operation of Castellon Airport until being dismissed in December 2011, has filed for bankruptcy.
The Bankruptcy application was submitted Mid-December and published in the BOE official court gazette.
Airport Concessions signed a contract with the Generalitat Valenciana to operate the airport on March 23rd 2011, just 2 days before the facility was officially inaugurated.
However, by December 2011, Aerocas (who are 98% owned by the Genaralitat Valenciana and 2% by the Diputacion de Castellon) had taken the decision to end their agreement in a bid to make an estimated €30 million of savings across an 8 year period.
Aerocas and Airport Concessions were unable to reach an agreement on a suitable compensation deal and such they subsequently sued the Generalitat for breach of contract, demanding €126 million in compensation.
Just 2 weeks ago the President of Aerocas, Carlos Fabra, announced that the company was considering an offer to but the airport from a Spanish-Libyan Investment Group for the sum of €200 million.
However just last week it was reported how the "true value" of the offer would be just €87.5 million when costs in preparing the facility for sale had been taken into account, which would mean that the sale of Castellon Airport made an overall loss of €67.5 million .