PSOE calls for Rajoy to Resign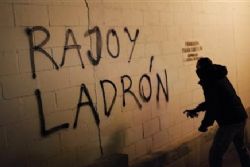 The PSOE have called for the resignation of Prime Minister Mariano Rajoy over a corruption scandal on Sunday as a poll showed the lowest support on record for his centre-right Partido Popular.
Media reports over the last 2 weeks alleged at least a dozen senior PP officials, including Rajoy, received payments from a slush fund operated by its former treasurer.
Rajoy denies wrongdoing, but the scandal has provoked fury among Spaniards already disenchanted by deep recession and high unemployment, as support for the 2 biggest parties slumps.