SAREB starts sales despite business plan scrutiny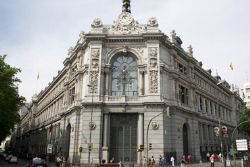 Spain's so-called bad bank has started marketing the first batch of properties seized from troubled lenders to cleanse their books even though it is still bogged down in internal debates and doubts over its business plan.
The bad bank - SAREB - said on Monday it was putting 13,000 properties, which were once owned by rescued lender Bankia, up for sale.
SAREB took on €37 billion worth of troubled real estate assets - land, foreclosed homes, half-built developments and loans to developers - at the end of December from 4 nationalised banks, including Bankia.
The lenders received bonds in exchange, but also European rescue funds to help rebuild their capital.
SAREB, set up as a condition of receiving that aid, has had a stuttering start.
Key details, including the way assets will be managed and by whom, have yet to be fixed - so far, lenders like Bankia are still managing the assets.
Now a business plan drawn up a few months ago, before Spain's healthier lenders provided SAREB with start-up capital, is being revised, the entity confirmed on Monday.
"The business plan is being adjusted because of the evolution of the portfolio, as we now have all the details about what it contains," a spokeswoman for SAREB said.
She added that the Bank's projected annual return on equity target of 14-15% would not change as a result, nor would any of the discounts applied to the assets when they were transferred from the banks to SAREB.
The original business plan relied on information from lenders dating back to the end of 2011.
Two other sources close to the process also said a revised plan was being worked on, although they did not give details of what aspects would change.
But doubts about the plan, from new managers appointed by the Spanish government's bank restructuring fund FROB to run SAREB, had already begun to surface in mid-December, one of the sources close to the process said.
At that point private shareholders such as Santander and other Spanish banks were in the process of assembling capital to pump into SAREB, an asset management company that is supposed to be less than 50% owned by the state.
"The business plan was approved by everyone. Now they want to change some of the hypotheses. They're casting doubt on the plan," the source said.
CREDIBLE PLAN NEEDED
The European Commission, the ECB and the IMF on Monday all urged Sareb to ensure it had a comprehensive long-term business plan, as they reviewed Spain's implementation of financial reforms. "It is of the utmost importance that this plan is kept both robust and credible, based on updated information," the EC and the ECB said in their report.
The IMF added that SAREB needed the "robust implementation" of servicing agreements to safeguard the value of its assets.
Several international funds, which specialise in managing loan portfolios or housing stock, are vying for these contracts, the source close to the process said.
For now, the likes of Bankia are still doing that work themselves. The 13,000 properties released for sale on Monday - mainly new builds or second-hand, completed homes, worth above €100,000 - are being marketed on the website of its property division, Bankia Habitat.
Some of the properties are designed to be second homes, in holiday resorts on the southern Spanish coast such as Marbella and Malaga, while others are downtown houses in main cities.
Real estate experts have warned, however, that the toughest assets to sell will be foreclosed plots of land and half-built projects, and loans related to these types of assets.
SAREB is also contemplating doing a more detailed analysis of some of its assets, as these were valued as part of bigger portfolios, two sources familiar with the situation said. This could be done by assessing a sample portfolio, although it could take many months.
"It took us a month to individually value 10,000 housing assets, and that was without going to visit the properties," said one real estate valuations expert in Madrid, who declined to be named. "Multiply that many times over to get to the scale of the challenge at SAREB."