Germany's Merkel has "full confidence" in Rajoy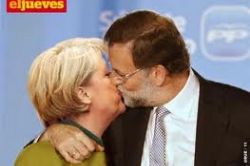 Angela Merkel told Spain's PM she had full confidence in his government's ability to push through reforms, brushing aside a growing corruption scandal in Spain which has prompted calls for Mariano Rajoy's resignation.
The scandal has hit just as 57-year-old Rajoy, who had a reputation for being boring but clean, appeared to make some headway in tackling the country's deep financial crisis.
"We have a relation of full trust in the Spanish government," Merkel told a joint news conference with Rajoy in Berlin, adding she believed Madrid was fully focused on driving down unemployment and pushing through structural reforms.
"I am convinced that the Spanish government and Mariano Rajoy as PM will be able to sort out these problems and the German government will support them with all of its powers."
Rajoy repeated his assertion made over the weekend that he not done anything wrong.
Media reports allege the former treasurers of his People's Party operated a slush fund with donations from construction industry executives that were then doled out to Rajoy and other party leaders.
"The things I'm accused of are false. I still have same desire, force, courage and determination... to overcome one of the most difficult situations Spain has gone through in 30 years," he said, in response to a question over whether he still had the moral standing to lead the country.
The Spanish leader has said he welcomed an investigation into the affair and would publish his tax declarations on the internet.