IMF Calls for Spanish Banking overhaul timetable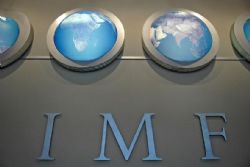 The IMF, the European Commission and the ECB believe "major" progress has been made in cleaning up the Spanish financial sector but insist there is no room for complacency, with a number of tasks still pending.
Those are the conclusions of a second visit to Spain by the so-called "men in black" from the troika in connection with the European bailout granted to Spain to recapitalize its banks. "The main finding of the mission is that major progress has been made in implementing financial sector reforms," the IMF said in a statement posted Monday on its website.
However, it called for a calendar to be established in the overhaul of the Bank of Spain's supervisory duties. In response to a damning report by the Association of Inspectors on supervision by the Bank of Spain, the central bank announced a series of measures to tighten controls, including extending the practice of having in-house inspectors at the top banks.
The mission also highlighted the need for the SAREB bad bank, set up to absorb the toxic assets of lenders, to draw up a "comprehensive long-term" business plan that safeguards the value of its assets.
The inspectors also called for "effective incentives for former savings banks to gradually divest their controlling stakes in commercial banks."
The report also welcomed the government's plan to offer greater protection to mortgage holders against foreclosures and evictions.
The conclusions were drawn from an IMF visit to Madrid in the period January 25 to February 1. A final report is due to be conveyed to the authorities and the EC in early March.