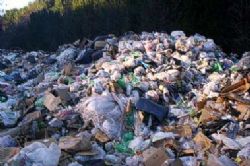 Over 6,000 tons of rubbish is now thought to have accumulated on the streets of Seville, one of Spain's most popular tourist destinations, as a garbage collectors' strike has now passed it's tenth day.
More than 1,300 of the city's refuse collectors voted to reject an offer by city bosses to cut their wages by 3.8%, instead of the initially planned 5%.
Representatives of the workers also rejected a proposed increase to their working hours.
The city of 700,000 residents is struggling to meet government instructions to all municipalities to put their finances in order. The ruling Partido Popular government is trying to cut the budget deficit from an estimated 7.0% of GDP last year to 4.5% in 2013.
Over 100 'Basuras' have been torched by vandals so far, with Market traders and shopkeepers also complaining about the negative effect that this is having on tourism.