Switzerland "cooperating" with Spain corruption probe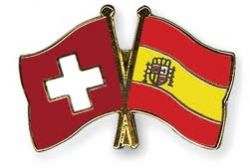 Switzerland is cooperating with a Spanish request for details of bank accounts connected to Spain's ruling Partido Popular that is under investigation for alleged corruption, the Swiss attorney-general said on Wednesday.
Michael Lauber declined to name banks or individuals under suspicion.
"I can say 2 things. We have good cooperation with the authorities in Spain. Certainly, we have an interest in receiving everything that is necessary to continue the inquiries," Lauber told a news briefing in Geneva where he was asked about the status of the inquiry.
Spanish media accuse the party of operating a secret account to channel cash from construction firms to its leaders during the building boom that preceded the crash which plunged Spain into a debt crisis and recession 5 years ago.
PM Mariano Rajoy has denied any wrongdoing. He also welcomed an investigation of the finances of the PP and promised to post his own tax returns on a government website.
"For everything that concerns how many accounts and what are the names, our practice is that we never officially comment if this person or that bank might be implicated in one of our investigations," Lauber said.
"As soon as we confirm we maybe have something in that direction, it could also endanger some of our investigations. That is why we are very prudent," he added.