Bankia plans fewer job cuts in overhaul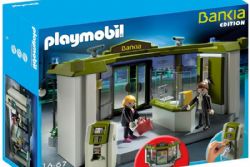 Bailed-out Spanish lender Bankia said today how it had agreed to pare back redundancies targeted in a restructuring, although it is still cutting more than 4,000 jobs.
The nationalised bank is taking €18 billion in European funds to help clean up its books and agreed to scale back its operations as a result, partly by cutting branches.
Bankia had said it would reduce its staff of roughly 19,000 by 6,000 as part of its restructuring. About 1,000 of those jobs were already set to be shed be selling parts of its business, and the rest via lay-offs.
On Wednesday the bank said it would axe a maximum of 4,500 jobs, instead of 5,000. Unions had argued that Brussels had not imposed a specific number of job cuts as a condition for Bankia's rescue.
Bank workers in Spain have faced mass lay-offs after a property crash wrecked profits at many lenders, forcing the weakest to seek state aid.
Unions have said roughly 20,000 lay-offs planned this year would take the banking workforce to 1975 levels, even as unemployment in recession-hit Spain reached a record 26%.
Workers at Bankia and another nationalised Spanish bank called off a strike planned for Wednesday, while workers at NovaGalicia Banco staged a walk-out as they too fight layoffs.
As well as reducing the number of jobs lost through redundancy, the unions said they also agreed provisionally with Bankia management to allow nearly 40% of those affected to take early retirement.
Voluntary departures would take priority and more efforts would be made to relocate people.