Spanish cost of borrowing jumps amid corruption allegations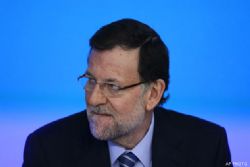 Spain's cost of borrowing increased today as it beat its maximum target of €4.5 billion at a debt sale amid corruption allegations against the government, which threaten to reverse last month's rally.
The Treasury sold a total of €4.61 billion of debt, including a 2.75% 2015 note with a yield of 2.823%, compared with 2.476% the last time it was sold on Jan. 10. A 2018 note yielded 4.123%, up from 3.770% on Jan. 17, and it sold a 2029 bond at 5.787%, compared with 5.555% at its last 15-year benchmark bond sale on Jan. 1th.
The sovereign's securities led declines among the euro- region's so-called peripheral countries this week even as German Chancellor Angela Merkel backed PM Mariano Rajoy after he denied receiving illegal cash payments. Demand for Spanish assets is weakening as the Treasury seeks to fast-track a higher net issuance program this year.
Bond Demand
Demand for the 2015 note was 2.21 times the amount sold, compared with 2.07 last month, while the bid-to-cover ratio was 2.24 for the 2018 one, compared with 2.32 in January, and 2.02 for the 2029 bonds from 2.85 last month.
The yield on Spain's 10-year benchmark bond fell 10 basis points at 5.42% after the sale this lunchtime, narrowing the spread with similar German maturities to 3.77 percentage points.
The yield on Spain's 10-year benchmark security has slumped since a euro-era record of 7.75% on July 25, before the ECB unveiled a sovereign debt purchase program on the secondary markets for member states applying for aid from the EU's rescue-fund.
Corruption Concerns
Political parties and corruption were already among Spaniards' top four issues of concern along with unemployment and the economic situation before the so-called Barcenas case rocked the ruling Partido Popular last month, a poll by the state-run CIS showed yesterday.
The poll, based on 2.483 interviews, was conducted from Jan. 4 to Jan. 14. before Spanish newspaper El Mundo first published a story alleging former PP treasurer Luis Barcenas made cash payments to senior party officials end of January.