Fitch's hold Spain's credit rating at BBB with negative outlook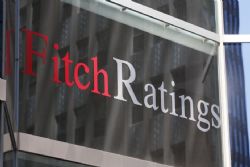 Fitch Ratings has affirmed Spain's Long-term foreign and local currency Issuer Default Ratings (IDRs) at 'BBB' with a Negative Outlook. The short-term foreign currency IDR is affirmed at 'F2' and the Country Ceiling at 'AAA'.
The affirmation of Spain's sovereign ratings reflects Fitch's understanding that public debt will remain under 100% of GDP - even given some assumed fiscal slippage and a continuation of Spain's deep recession in 2013. This projection also incorporates the cost to the state of bank support, which the agency judges to be "affordable".
The agency maintains its assumption that medium term potential growth is 1.5%, projecting that public debt will peak in 2014-15 at around 96% and decline gradually thereafter, assuming an effective interest rate close to current levels.
Fitch's also believe that the contingent liabilities from the banking sector have been adequately sized and that capital injections required from the Spanish sovereign will not exceed EUR60b.