1 Million sign petition for Rajoy's resignation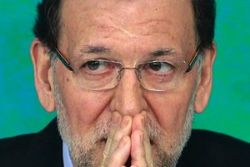 A petition calling for the resignation of Mariano Rajoy over recent allegations of his involvement in the recent corruption scandal has attracted over 1 Million signatures on an online petition.
The list of discontented citizens on www.change.org was instigated by the publication of documents showing how the PM and other senior members of the PP had received undeclared payments from a secret slush fund.
"I demand the immediate resignation of Prime Minister Mariano Rajoy and the calling of snap elections, as well as the resignation of any member of the Partido Popular named in the documents who holds office publicly or in the party," the petition read before asking for the signiture of those in agreement.
By Friday morning the number of signitures stood at 1,017,188.
The PM has so far resisted all calls from the PSOE and from discontented protest groups to resign over the scandal.