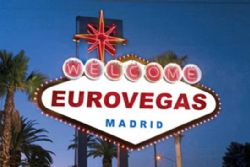 It seems that Paramount Murcia is now under pressure from some serious competition...
A sprawling gambling resort near Spain's capital is due to create thousands of much-needed jobs when it opens in 2017, but opponents question the economic benefits and fear it could encourage crime.
Madrid government officials approved the mega-casino, dubbed "Eurovegas" by Spanish media, on Friday after winning a battle with Spain's 2nd-biggest city Barcelona to draw industry mogul Sheldon Adelson's company Las Vegas Sands.
The complex could transform the fortunes of Alcorcon, a down-at-heel commuter town some 15 km south of the Spanish capital. Government officials say the 750-hectare site could create as many as 250,000 jobs in a country where over a quarter of the working-age population has no work.
Spanish protest groups fear any casino project on that scale, however well run, could unwittingly attract illegal activity and prostitution. They also point out the potential damage to the environment.
Adelson's company is the target of a federal criminal investigation and a civil lawsuit by the former chief of China operations of Las Vegas Sands, who alleges improprieties at the global casino enterprise that made Adelson, with about €16.46 billion, the world's 16th richest man.
Adelson has not been charged by federal investigators and Las Vegas Sands has declined to comment to Reuters about the inquiries.
The casino operator has recently hired 3 former FBI agents to beef up its anti-money-laundering efforts, the Wall Street Journal reported last month, and a spokesman for Sands told the paper it would "continue to build and enhance the best compliance processes in the business".
The U.S. inquiries have fuelled opposition to the Spanish project.
In August a small leftist party in Catalonia, where the project could have been based, called for Adelson to appear before the region's legislature to answer questions about the investigations. But nothing came to pass.
The protest groups plan to gather in Madrid's central Puerta del Sol later on Friday in an attempt to halt a project it denounced as "synonymous with speculation, corruption, loss of rights and environmental damage".
The mayor of Alcorcon, David Perez, said people opposed to the project were showing little solidarity with Spain's unemployed.
4'000 jobless builders in Alcorcon would have work by the end of 2013 if it went ahead, Perez said in an interview on Spanish national television.
Eurovegas would include the tallest skyscrapers in Spain, Newspaper ABC reported.
Las Vegas Sands operations chief Michael Leven said the company would invest €2.69 billion to get the project off the ground, raise financing in 2014, and pay for 35% of the investment using its own funds. The first phase would be completed by 2017.
"We have had assurances from many banks that we will have that money available so it's not even a question," Leven said.
Based on employee numbers at the group's resort in Singapore, around 80,000 people could be employed in the first phase, which will feature 12,000 hotel rooms, shops and casinos.
"This project has enormous economic implications, enormous employment opportunities and we can provide some excitement and some positive attitude and investment for others as well," Leven told reporters in Madrid.