EU calls for closer currency coordination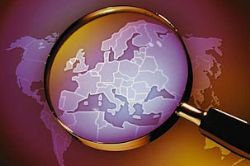 The EU's top monetary official wants closer coordination on currencies to avoid potentially damaging disruptions to world trade, he told an Austrian magazine.
The remarks by Economic and Monetary Affairs Commissioner Olli Rehn come amid a standoff between France and Germany over whether a strengthening euro needs an official European response or whether markets should be left to set exchange rates.
Germany said this week the strong euro was not a concern and signaled opposition to a French proposal for a mid-term target rate, exposing policy divisions over mainland Europe's currency between its top two economies.
The ECB will monitor the economic impact of a strengthening euro, Bank President Mario Draghi said on Thursday, feeding expectations the climbing currency could open the door to an interest rate cut.
"I recognize the risk of competitive devaluation. We have recently warned the government of Japan about corresponding steps towards depreciation of the yen," Rehn told Profil magazine in an interview published on Saturday.
"We need reforms in the international monetary system so as to avoid negative influences on international trade. The coordination within the G7, G20 or the IMF should therefore be improved," he added, referring to policy-setting groups of leading nations and the IMF.
Rehn said a stronger euro would be very harmful mainly for the southern euro zone countries, while Germany, Austria, the Netherlands and Finland could handle this. "But the southern countries would have problems with their exports to other parts of the world," he said.
On other subjects, Rehn said the "horror scenario" of a euro zone collapse was gone but urged members of the currency bloc to press ahead with fiscal consolidation and structural reforms.
He declined to comment on the potential impact on the euro zone of a political comeback by former Italian PM Silvio Berlusconi other than to say markets were paying close attention to events in Italy and Spain.
"There has been some turbulence due to the political situation in Italy and Spain. The markets reacted immediately, and the interest rates on government bonds of the two countries again soared," he said.
"This should remind us that we have not yet won the battle against the crisis. It's a very fragile situation. Whatever color the new government in Italy has, it is important that it maintains the course of reform. It cannot lean back."
Rehn also called on Cyprus, which is seeking euro zone assistance to handle a financial crisis, to redouble efforts to crack down on crime.
"There will be very strict conditions (for aid) there. Cyprus needs credible action against money laundering and in the fight against tax evasion. It is extremely important that Cyprus avoids bankruptcy and a euro exit," he said.
Euro zone finance ministers will discuss on Monday a Cypriot proposal to order an independent report on whether the country is fully complying with laws against money laundering, a senior EU official said this week.