Castellon Airport sale deadline Feb 28th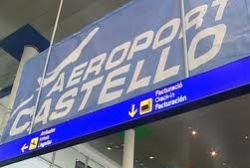 The Spanish Airports Authority - AENA - is due to complete their final test flight at Castellon Airport later this month, according to a statement made by Aerocas earlier this week. An unnamed Aerocas Director confirmed the details to Europa Press, although a specific date was not given.
The Generalitat Valenciana is still waiting for the legal paperwork to be completed before agreeing to the sale of the facility to the Spanish-Libyan investment group who expressed their interest in operating the facility last month.
The Ministry of Economy confirmed that the deadline for agreeing to the deal ends on February 28th, and it is understood that the final approval of the Airport's facilities by AENA is a condition of the sale.
Regional President Alberto Fabra has confirmed that there are other offers on the table, but at the moment everything is focussed on the sale of the facility to the Libyans.
At the end of last month it was reported how the "€200 Million offer" would be reduced to €87.5 Million once the required expenditure to make the airport operational had been factored in - which would result in a €67.5 Million loss for the region .