Department of Tourism pushes 'Murcia 365'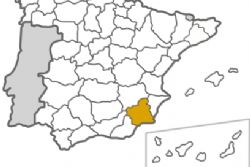 Earlier this week the Region of Murcia began a remodelling of its Tourism Office in Plaza de Belluga, which will see the floor space double in size to 103 square meters.
During 2012 the office served some 128,031 personal inquiries, representing an increase of 52% on 2011. The Office also noted an 86.17% increase in enquiries from Foreign Residents - some 25'194 more than the previous year.
The plans to expand the Plaza de Bulluga office is part of the Region's "Murcia 365" plan to attract a greater number of visitors to the region throughout the year. The Department of Tourism also has plans to launch their promotion further afield in Almeria, Alicante and Valencia.
Two important cornerstones of the promotional campaign remain the Paramount Pictures theme park at Alhama de Murcia, and the opening of the new Corvera International Airport, which is expected to bring up to 3 Million visitors to the region each year.
A further point of interest is the importance that the region is seemingly placing on the Russian market, after introducing a number of promotional campaigns on Russian travel and tourism web portals.
If the Region can deliver on the Paramount and Corvera projects, it may result in a heightened interest from Russia in the Murcia property market.