Ryanair accounts for 70% of all Airline complaints : FACUA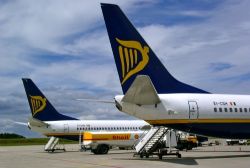 Ryanair account for 7 out of every 10 complaints reported to FACUA, according to a recent survey by the Consumers association.
The Group's website reports that 71% of passengers consider the Irish company to be the worst offender for airline abuses, with Iberia coming way behind them in 2nd place and accounting for 10% of all complaints.
FACUA invited air passengers to take part in an online survey, comprising 13 questions relating to problems and incidents they may have faced on recent journeys.
71% of passengers surveyed by the group claimed that they did not know their rights in case of loss, damage or delay of luggage. At an almost identical percentage, 72% say that they were also unaware of the compensation due to them in cases of delays, flight cancellations or over bookings.
Government Inaction
The survey gathers the opinions of 1,089 passengers, reporting a negative view of the sector, and a high rate of irregularities by the airlines and an absence of government control.
93% of passengers believe that Spain's Ministry of Public Works does not guarantee the protection of their rights, and 57% that sufficient customer rights do not exist anyway.
FACUA have also criticised the Spanish Air Safety Agency (AESA) and the Ministry of Public Works, together with the Regional Authorities, for allowing these airlines to continually get away with the mis-treatment of passengers.
Misleading offers
A reported 78% of all passengers surveyed found that airline ticket prices were unclear, with 80% stating how they found the final price paid for a ticket to be higher than the advertised price. Just 3% of those surveyed found the price they paid to be the same as advertised.
Making a claim
The results of the survey made it clear that 60% of passengers were unaware of their rights and the compensation claims process in the event of a cancelled flight or delay, compared to 29% who reported that they were aware of their rights.
82% of those surveyed reported that the last time they experienced a cancellation or a long delay; the airline did not inform them of their rights, something that is obligatory by European regulation.
Furthermore, of the passengers who did make a formal complaint due to the cancellation or long delay, just 15% received a satisfactory response from the airline. 85% did not receive the compensation required (not a penny in 49% of cases and less than they claim in 36%).
Recommended Reading
• FACUA : Ryanair is the airline that accounts for 7 out of 10 complaints