Spain Earthquake swarm enters 3rd month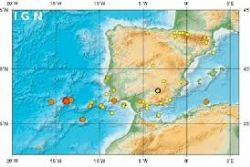 The ongoing earthquake swarm currently being experienced in Jaen, Andalucia, is about to enter its 3rd Month.
Since the notification of the first seismic activity on the 9th of December in an area between the villages of Sabiote and Torreperogil, and to the north of the town of Ubeda, the area has been rocked by a number of earthquakes and tremors.
Spain's National Geographic Institute (IGN) has now reported in excess of 2'000 individual activities. Although, at an average of 2.5 on the Richter scale, only a small percentage of these quakes were strong enough to have been felt by local residents on the surface, the fact they have been registered at relatively shallow depths averaging 5 - 7km has caused a number of local residents to be on guard.
However, activity seems to have increased over the last 7 days with a total of 114 earthquakes having been reported - the strongest of these being recorded at 3.7 on the Richter scale, and the shallowest being at just 1km below the surface.
Whilst the Richter scale is used to determine the energy produced by seismic activities, the Moment Magnitude Scale is used to measure the physical effect that quakes have on the surface. This means that a an Earthquake with a very high Richer number, but at a great depth, may not be felt on the surface, whilst a low Richter quake at a shallow depth may be felt.
Over the last 7 days 35 of these activities were strong enough to have been "measured" on the surface - with averages of II or III on the MMS scale (usually over 2.5 on the Richter scale), with just 1 Earthquake being strong enough to have been felt by local residents.
Earlier this week the Spanish press reported how a number of locals have resorted to sleeping in their cars in preparation for a larger quake, which many expect could strike at any time.
Read earlier news stories on the Jaen earthquake swarm by clicking the link >> HERE <<.