SAREB declines 3 investment funds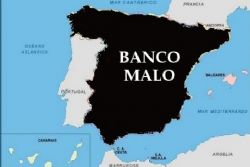 Spain's so-called 'bad bank', SAREB, has rejected overtures from investment funds Cerebrus, Fortress and Centerbridge to enter into its capital because they were asking for advantages over other shareholders, Expansion newspaper reported on Saturday without citing sources.
SAREB was not available for comment. None of the three funds could be reached for comment and neither the Bank of Spain nor the Economy Minister could confirm the report.
Spain set up the bad bank to stave off toxic real estate assets dating from a property crash from lenders' balance sheets as a condition of receiving around €40 billion of European money to bail out ailing banks.
The head of SAREB, Belen Romana, sent a letter to the 3 funds on Friday declining their entry into the bad bank's capital, but leaving the door open for further talks, the paper reported.
The funds wanted first choice on buying portfolios of finished buildings and on supplying services to the bad bank, the paper said.
SAREB took on €37 billion worth of troubled real estate assets at the end of December from 4 nationalised banks, including Bankia.