Are "20 Airlines" still interested in Corvera Airport ?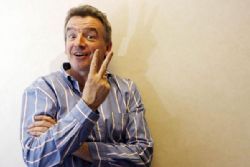 Today - the 10th of February 2013 - marks 12 months to the day since the Regional Director of Tourism for Murcia, Enrique Ujaldón, addressed a seminar where he boasted that there were "20 Airlines interested in establishing flights to Corvera Airport" .
To be fair, in February 2012 there probably was, however 1 year and several missed deadlines later, can the same be said today ?
At the same time the DG inferred that many of these Airlines were interested in operating routes between Corvera and Russia, and a similar theme was followed yesterday when the region's Ministry of Tourism announced a new marketing campaign in Russia to promote the region to holidaymakers.
Once of the region's major tourist offices has begun work to increase its footprint in a bid to better serve the expected increase in foreign visitor numbers to the region. This is seemingly based on nothing more than confidence in the Paramount theme park and the success of Corvera Airport .
Critics have already suggested that it shows a misplaced sense of priorities and optimism when the Airport remains without a confirmed date for opening, and work is still to commence at the theme park.