Further calls for Castellon Airport answers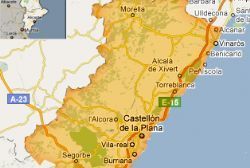 The Deputy spokesman for the PSPV in Castellon, María José Salvador, has commented that "Carlos Fabra cannot remain silent while every day new shadows fall over the issue of the management of Castellon Airport."
She went on to claim that "the Government has no plans for the infrastructure, and allows those responsible to get away with improvising", and that "2 years after opening, there is still uncertainty surrounding the issue of who might buy the airport which is yet to see the arrival of its first place."
Furthermore, Salvador criticized the "lack of transparency and information from the Generalitat Valenciana concerning the facility", and requested that the regional government explains the activities of the Castellon Airport Advisory Committee - created in 2005 to advise on policy concerning the airport.
The PSPV have been particularly vocal in calling for the dismissal of Carlos Fabra, the President of Aerocas - the company formed to oversee the construction and operation of the Airport. These demands have grown over the past year "since it is clear that while a person who faces prison for bribery, tax fraud and influence peddling remains at the forefront of infrastructure, it is physically impossible to find a buyer".
This past weekend it was reported how a deadline of February 28th has been placed to reach a deal with the Spanish-Libyan investment group who have expressed an interest in purchasing the airport at the loss of €67.5 Million.