Banco de Valencia leaves shareholders broke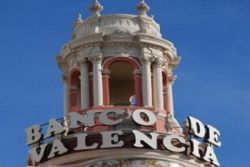 Holders of junior debt instruments such as preference shares and subordinated debt in Spain's nationalised bank Banco de Valencia will suffer losses ranging from 85% - 90%, the country's bank restructuring fund, FROB, said on Monday.
Banco de Valencia was one of the lenders hardest hit by the bursting of a property bubble in Spain in 2008.
The FROB, which had to inject €5.5 billion into the bank, said in November it would sell the entity to the country's 3rd biggest lender, Caixabank, for the nominal fee of €1.
"The important losses are justified in order to ensure a fair share of the restructuring and resolving costs and to reduce the cost of public aid," the FROB said in a statement.
Just last week the stricken lender reported they had made losses of €3.6 Billion during 2012. CaixaBank said that the losses would not be consolodated into their own figures.
CaixaBank themselves saw their profits slide by 80% last year.