Spain ditches 2.8 Million mobile phones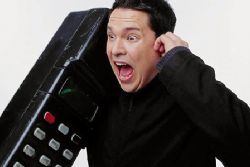 Mobile operators in recession-hit Spain lost 2.77 million customers in 2012, with Telefonica and Vodafone leading the decline, data from the country's telecoms watchdog showed on Tuesday.
The number of mobile connections in Spain shrank to 52.946 million at the end of December from 55.844 a year earlier.
Spain has a population of 47 million but many mobile phone users have more than one subscription. The annual decline was adjusted for comparison changes, such as the way telecom companies calculate the number of inactive phone lines.
The country's economy has struggled to recover from a housing sector bust 5 years ago that crippled banking and depressed consumer confidence. Over 25% of the workforce is unemployed.
"Broadband was the only area that showed year-on-year growth, thanks to a push from alternative operators," industry regulator CMT said in a statement.
Market leader Telefonica lost more than 3 million mobile connections in 2012, while its next biggest rival Vodafone lost around 1.6 million.
Telefonica and Vodafone also lost market share as they halted smartphone subsidies and some customers switched to cheaper rivals.
Business grew for alternative operators - companies that buy capacity wholesale from network operators and sell it on to individual customers. Their share of the market grew to 8.92% at the end of 2012 from 6.33% a year earlier.
Yoigo and Orange, which did not stop subsiding phones, also saw fewer subscription losses than Telefonica and Vodafone.
Broadband specialist Jazztel is offering to pay contract penalty fees of up to €200 for its Internet clients to switch to its mobile service.
Vodafone reintroduced smartphone subsidies in November but had just 26.23% of the market in December 2012 compared to 28.21% a year before.
Telefonica introduced a bundle of Internet, television, mobile and fixed-line services in October to lock in clients, a policy that could take time to bear fruit.
The strategy has proved successful in stabilising broadband - Telefonica gained 43,000 broadband clients in December - but the former monopoly continues to lose mobile market share, which fell to 36.5% in December from 40% a year before.
The end-of-year market share losses by Telefonica and Vodafone were less dramatic than in earlier months, however.
Spain counted 11.56 million broadband lines at end-2012, a year-on-year increase of 3.7%.