Iberia presses for job cuts despite strike threat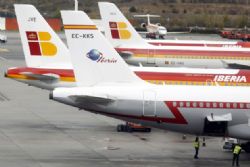 Spanish airline Iberia pressed ahead with its job cuts plan on Tuesday, saying it was now aiming for 3,807 redundancies, despite a threat by unions to take strike action later this month.
Iberia, part of the International Airline Group (IAG), has said the job reductions are necessary to allow the loss-making airline to return to growth.
The job cuts will comply with Spanish labour laws, Iberia said in a statement, which allow pay-offs of only a year's salary.
Iberia had originally planned to axe 4,500 jobs - 25% of its workforce - but later presented unions with a plan for 30% fewer reductions. Unions rejected the proposal and called for strikes over 15 days between February and March.
The plan for the job reductions will now undergo a formal 30-day consultation process with unions, Iberia said.