PP does U-turn on eviction initiative in Congress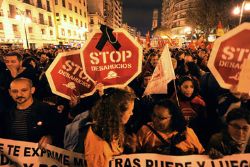 The Partido Poular bowed to intense pressure on Tuesday and agreed to back a popular legislative initiative in Congress organized by the Mortgage Victims Platform (PAH) to address a spate of foreclosures and evictions, PP congressional spokesman, Alfonso Alonso, announced Tuesday.
The previous day, the ruling party said its response to the initiatives, which came in the wake of a number of cases of suicide involving people facing imminent eviction, would be a "polite no."
An elderly couple in Calviâ on the island of Mallorca were found dead in their home on Tuesday by their son, who discovered a suicide note saying they had taken their own lives after receiving a notice to leave their property.
The PP has an absolute majority in the lower house ensuring approval of the consideration measures, which received the backing of the other groups in Congress.
The initiative was debated Tuesday in the lower house. During the debate, speaker Jesús Posada ordered the visitor galleries to be emptied after members of the public jeered the PP.
The PAH gathered 1.5 million signatures supporting the initiative, which calls for a backdated halt to evictions, the enactment of a dation in payment law that will allow those who have had their homes foreclosed to cancel the mortgage by handing the property over to the bank, and the creation of a pool of social housing for those who lose their homes.
PAH members met with PP lawmakers prior to the vote in an effort to convince them to change their minds. "Today, we will see if parliament is blind and deaf in the eyes of the people," said PAH activist Martín Batllorí. PAH spokeswoman Ada Colau added: "We are asking deputies not to show disrespect to the people."
Just a few hours later the news came that today also saw the suicides of two further mortgage evictees : a 54 year old Basque Man, and a couple in their 60's from Mallorca.