Spain's Broadband connections increase, despite mobile losses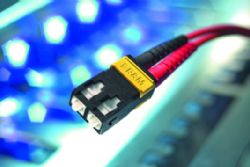 Despite yesterday's news that Spain last year lost around 2.8 Million mobile phone connections - amounting to around 5% of customers - the take-up in fixed lines is reported to be increasing.
Spain's fixed bandwidth market is growing fast, seeing an increase of 416,000 lines, up 3.7%, to a total of 11.56 million in 2012, according to latest statistics released by the Telecomunications Market Commission (CMT).
Telefonica remains the market leader with a market share of 48.33%, followed by its telco competitors, 32.96% and cable operators with 18.71%. In December alone Telefonica added an extra 42,780 connections in comparison with 10,080 lines gained by its telco competitors. Telefonica is also leading the development of FTTH (Fibreoptic technology to the home) in Spain operating 323,285 lines, 97% of all FTTH connections in the country.
The company currently is extending its FTTH network throughout Spain and has just begun the project to do so around the city of Valladolid, in the region of Castilla Leon, which will also be the trial location for for 4G over 800 MHz.