Spain's NCG Banco agree to fewer redundancies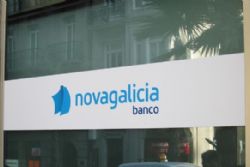 Nationalised Spanish lender NCG Banco said on Wednesday it had reached an agreement with staff to cut planned lay-offs by almost half.
Workers at NCG Banco, which employs around 5,000 people, went on strike earlier this month to protest the job cull, part of a restructuring plan necessary to receive rescue funds.
NCG Banco said the lay-offs would affect a maximum of 1,850 people, though that number could fall to 1,260 or around half the initially planned cuts, once the lender's sale of EVO bank and flexible working hours for some workers were taken into account.
The lender had originally planned to cut around 2,500 jobs.
Rescued Bankia agreed to lay off up to 4,500 workers instead of 5,000 as part of its restructuring. Spain applied for European aid for its ailing banking sector in June after Bankia received the biggest bank bailout in Spain's history.