Spain tipped to replace Germany as 'Daddy of Europe'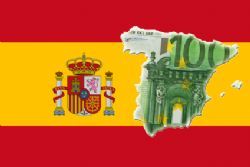 Experts are tipping Spain to become the next Economic powerhouse of Europe, knocking Germany off its perch as the 'Daddy' of the Eurozone.
Analysts at Morgan Stanley believe that the increasing competitiveness of Spanish exports will continue for years to come, despite its current problems.
"Spain, where unit labor costs are falling due to recession and reforms, and where exports performance is strong, is on its way to become the euro area's next Germany," analysts Joachim Fels and Sung Woen Kang wrote in a weekly report on the world economy.
Fels went on to say how it could take up to 5 years for Spain to rival Germany as an export-led economy, due to the time lag before fiscal and structural reforms are felt, and that labor costs will remain low in Spain even when it recovers from recession, as "unemployment will still be high for years to come."
Even though Spain's GDP fell 1.8% year on year in Q4 of 2012 Fels said his clients agreed with his upbeat take on the Spanish economy.
Earlier this week, ECB President Mario Draghi told reporters at a news conference in Madrid that Spain was making good progress towards economic recovery.
However, analysts at JP Morgan were less optimistic, noting how falling confidence in Spain due to ongoing political scandals potentially harming the economy in the long term.