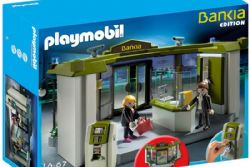 Shares in Spain's Bankia opened down 22.65% after a suspension on trading in the stock was lifted on Thursday.
The stock was trading at €0.40 at 6:01am after recovering slightly. The shares closed on Wednesday at €0.47.
Trading in the stock was suspended just before 3 a.m. on Thursday, after a newspaper report said that the nationalized lender's shares would be valued at €0.01 each in a recapitalization.
Spain's bank restructuring fund FROB, which controls Bankia, dismissed the report, saying it had not yet decided on a valuation. It added however that existing shareholders would likely be heavily diluted in the recapitalization.
Shareholders have been bracing for big losses since the bank had to apply for European rescue funds last year.
Earlier this week the striken lender issued a statement on its website, announcing how they now plan to close 1,100 offices this year instead of spreading out the process over three years as initially intended.
Bankia's restructuring also calls for the redundancies of 4,500 workers.