Iberia strike to ground 415 flights next week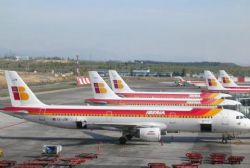 Iberia Airlines will cancel 40% of its scheduled flights when workers go on strike between February 18 and February 22 to protest against job cuts, the company announced earlier today.
The loss-making airline said that 415 of the 1,060 flights scheduled over the 5 days would be grounded, though 90% of long-distance flights will take off. Domestic flights will be most affected, with almost 50% cancelled.
Labour unions are also planning strikes from March 4 to March 8 and from March 18 to March 22.
Analysts expect that the 15 days of strike action could cost Iberia between €50 - €100 million.
International Airlines Group (IAG), comprising Iberia and a profitable British Airways, has negotiated with workers for months over a restructuring of the Spanish airline, which posted a €262 million operating loss during the first three-quarters of 2012.
Iberia said that it would reduce job cuts to 3,807, lower than the initial 4,500, but unions decided to press ahead with strike action.
Ground staff, including baggage handlers, will participate in the strikes, meaning that other airlines could be affected by the action.
"It's possible that other companies could make claims if their operations are affected during the strike," one airline industry source said.