Energy providers prepare to sue Gov't over subsidy cuts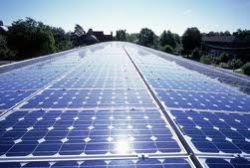 In a further attempt to control the widening Electricity deficit, Spain has approved a range of cuts to support the development of various renewable energy projects.During the lasy decade Spain implemented a number of subsidies to support the growth of renewable energy. Unfortunately for supporters of clean energy and solar and wind technology providers, those supports were tied in to electricity customers' bills - a system that becomes hard to accept in dire economic circumstances.
Spain's Industry Minister Jose Manuel Soria has said how reforms are in the pipeline for the country's renewable energy subsidies, with parliament passing a law yesterday that is meant to reduce electricity costs.
The new law will curb consumer costs by cutting back on subsidies to the renewable energy sector, which could cost smaller producers of renewable energy as much as €750 Million.
As a result, the various associations representing the owners of photovoltaic, solar thermal and wind energy plants are preparing to take legal action against the government, claiming that the measure is in breach of a contract they have, and which could mean they are likley never to recover their initial investment.
According to the FACUA Consumer association, Spain's widening Electricity budget has resulted in major Electricity providers promoting misleading discount offers in order to try and bolster their revenues.