Spain to spend €3.4 Bln tackling youth unemployment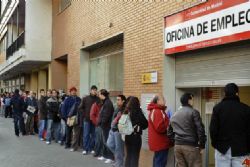 The Spanish Government has set aside €3.4 Bln until 2017 to create employment opportunities for the under 25's and to encourage entrpreneurs.
The initiative will also be partly funded European Social Fund, ias part of the '2013-16 Entrepreneurship and Youth Employment Strategy'.
The scheme will be run by the government in partnership in cooperation with local business leaders, and will include 15 short-term measures such as financial aid for those who wish to further their studies and incentives for businesses to employ the under 25's.
Unemployment in Spain surpassed the 26% marker in December, with unemployment of the under 25's reaching 55.1%.
Critics argue that encouraging (and paying for) youths to continue their studies will not result in job creation, and that offering companies subsidies to employ youth workers will be counter-productive with a fall in opportunities for older generations.