Spain to cull 50'000 Salaried Politicians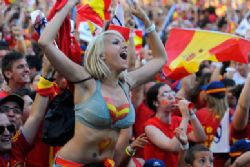 Spain's Minister for Finance, Cristobal Montoro, has announced the approval of a draft bill which intends to reign in the running costs of local governments.
The Minister was speaking after today's weekly Cabinet meeting, where he went on to explain how the measure is expected to save more than €7 Billion in administration costs.
The Bill, which will need full Parliamentary approval before being put into action, proposes cutting the number of full-time salaried councillors from 68'285 to 12'000 over the course of a few years.
Salaries for City mayors will be capped at around €100,000, with the position of mayor for villages with a population of less than 1'000 no longer carrying a salary.
The measure also proposes that the number of full-time councilors is cut to reflect the population of the town or city, and that Towns who are unable to keep their finances in check are merged with more succesful neighbours.
Various estimates place the number of people taking some kind of payment as a result of being 'employed' by Local; Provincial; Regional or National Politics in Spain to be around 450'000.