Paramount Murcia : Another 12 Months of nothing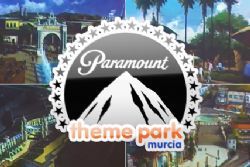 Next week mark's the one year anniversary since the Promoters and Developers of the Paramount Theme Park finally managed to sign the agreement to purchase the land to build the project.
Jesus Samper, the President of Proyectos Emblemáticos Murcianos SA (Premursa) headed by President, was originally due to officially sign for the purchase of the 1,812,926 meters square plot of land at Alhama de Murcia where the theme park and lifestyle centre was scheduled to be built on the 6th of February. However, problems arose at the last minute when it was found that a number of the plots being purchased were not free from outstanding charges.
As such this meant that almost one-third of the footprint had to be left off the purchase deal, requiring a reworking of the plans.
The Regional Minister for Culture, Pedro Alberto Cruz, at the time announced that the first stone at the park would be laid during May.
Despite promises that "Construction will commence on the 15th of January" being broken, later promises maintain that this will now actually take place by February 28th .
The 12 months of ownership to date have been significant for nothing more than missed deadlines and broken promises. Let's hope that February 28th brings positive news for a change.