Another weekend of marches and demonstrations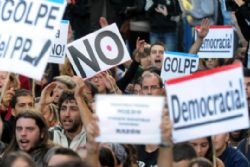 PM Mariano Rajoy has introduced almost €60 billion of austerity measures since taking office at the end of 2011, which are placing the country's elderly and disabled under particular pressure.
Thosuands of Spanish Healthcare workers held demonstrations in a number of larger town and cities across Spain yesterday, with the largest of all being held in Madrid where a number of groups converged on the Plaza de Cibeles.
This weekend's action marks the third such event this year, with demonstartors wearing white medical gowns to highlight their concerns that managers are putting profits before quality of care. The protestors are also concerned that any privatisation process would inevitably lead to loss of jobs.
The Spanish government maintains that cuts are necessary to guarantee health services during a recession.
Elsewhere this weekend, Saturday saw thousands of people taking to the streets to demand the ratification of a new law that would end the eviction of homeowners, which has risen dramatically during the recession. Last week alone saw 4 Homeowners commit suicide in despair over being evicted from their properties.
Protests were also held by employees of Iberia Airline this weekend, as a prelude to strike action which is due to commence this week, leading the cancelation of 415 scheduled flights. Employees are angry at the airline's plans to cut 4'500 jobs.
Sadly, there is nothing particularly remarkable about any of these demonstrations induvidually. Over recent months there seems to have been at least one such protest in many major cities across Spain.